11 disks chronicling the career of the late "beast from the east"

HISTORY OF THE BLUE WORLD ORDER (2 volumes)



Easily one of the greatest tag teams not only in the WWF, but in HISTORY.  The Dynamite Kid &
Davey Boy Smith combined speed, agility & power to create a truly exciting and memorable team.
Their matches in Japan and in the U.S. , especially with the Hart Foundation are legendary.
BEST OF BRUISER BRODY (9 VOLUMES)

BEST OF BRUTUS BEEFCAKE (31 VOLUMES)

BEST OF KING KONG BUNDY (5 DISKS)

HISTORY OF THE CAN-AM CONNECTION
BEST OF CHRIS CANDIDO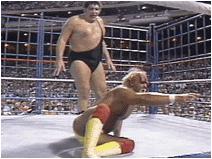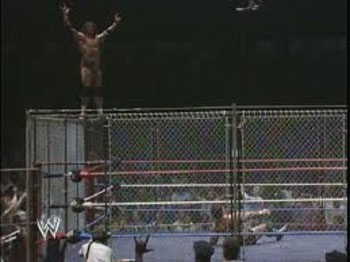 best of steel cage matches! (66 disks)
HISTORY OF THE DANGEROUS ALLIANCE (12 DISKS)
best of BARRY DARSOW (7 disks)


Not exactly the greatest mat technician (he'll readily admit this), Graham had far more than enough personality and charisma to makeUp for the difference. 
 He had the best physique in wrestling, was a smooth talker, and could really generate heat as a heel in the WWF.  Graham was very much ahead of his time, 
and would influence such wrestlers as Jesse "The Body" Ventura, Hulk Hogan, and "Big Poppa Pump" Scott Steiner.    


BEST OF SABU & ROB VAN DAM V. THE ELIMINATORS





THE HISTORY OF THE ORIGINAL TIGERMASK (5 VOLUMES!)
The original Tigermask (Satoru Sayama) is probable the best masked Hi-Flying wrestler EVER.  The work of todays
light heavyweights including modern legends like Jushin Liger are possible only because of men like Sayama who
pioneered the aerial style more than 15 years ago.  Every match on these tapes are  FANTASTIC!
Mitsuhara Misawa was the second wrestler to wear the mask of the Tiger.         

HISTORY OF MIKE TYSON
(29 VOLUMES COVERING HIS ENTIRE CAREER!)


                                    
                  
                  
 
 


THE GREATEST WWF TAG MATCHES YOU'VE NEVER SEEN 
3 DISKS!
WARNING: These matches took place before anyone knew what a "spot" was. You won't find tables, chairs and ladders. You won't 

                                    


find any 5 minute spot fests. What you WILL see is good tag team wrestling . Lots of ring psychology, and great execution. Enjoy.

ANY QUESTIONS? JUST

ME. IT'S THAT SIMPLE.

HOME
Note: This site is for informational purposes only. This is where I keep
the listings of the tapes in my collection. None of the videos listed on this site are for sale or trade.