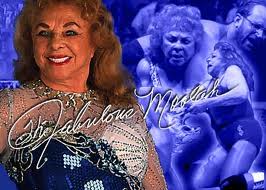 Disk 1
CLASSIC MOOLAH
1. Fabulous Moolah v. Vickie Williams (MSG 8/28/78)
2. Fabulous Moolah & Kitty Adams v. Vivian St. John & Joyce Grabel (2/3 falls – MSG 7/30/79)
3. Fabulous Moolah & Beverly Slade v. Peggy Lee & Kandi Malloy (Shea Stadium 8/9/1980)
4. Fabulous Moolah & Joyce Grable v. Wenona Little Heart & Pepper Torres (MSG 12/29/80)
5. Short documentary on Lillian "Fabulous Moolah" Ellison (MSG 2/81)
6. The Fabulous Moolah & Lelani Kai v. Jill Fontaine & Suzette Ferreira (MSG 4/81)
7. Fabulous Moolah & Wendi Richter v. Velvet McIntyre & Princess Victoria (MSG 3/14/82)
8. Fabulous Moolah v. Penny Marshall (MSG 8/82)
9. Wendi Richter & Fabulous Moolah v. Wondergirl Sabrina & Princess Victoria (MSG 12/28/82)
10. Fabulous Moolah vs Princess Victoria (MSG 5/23/83)
11. Fabulous Moolah vs. Wendi Richter (Richter is still wrestling as "Cowgirl" Wendy Richter. This will
change next month though. MSG 5/21/84)
Disk 2
Rock & Wrestling Connection!
1. Roddy Piper announces that Capt. Lou Albano has chosen his wrestler for Cyndi Lauper's challenge. It's The current WWF
Ladies champion, FABULOUS MOOLAH! Lou and Moolah promise to hurt both Lauper and whoever she picks to fight
Moolah. Lauper announces that she's picked WENDY RICHTER. Richter was last seen on WWF TV on 5/5/84 (and of course in the previous match, but house
shows don't count) and wasn't made to look like anything special. Now, Richter
sports a very impressive physique and spiked hair. Richter is being pushed as the next generation of female wrestler. (TV 6/30/84)
2. Roddy Piper shows footage of Captain Lou Albano "training" Fabulous Moolah for their upcoming match with Wendi Richter. This footage is ABSOLUTELY HILARIOUS! (TV 7/7/84)
3. Wendi Richter v. Fabulous Moolah (Richter defeats Moolah in "The Brawl to End it All to win the WWF
Womens Championship. Msg 7/23/84)
4. Gene Okerlund presents the WWF Ladies title belt to Wendi Richter. Or at least he attempts to, as the Fabulous Moolah runs in and attacks Richter.
Richter battles back and runs Moolah off. (TV 8/18/84)
5. Fabulous Moolah & Leilani Kai on TNT (TNT 3/8/85)
6. The Fabulous Moolah vs Wendy Richter (SNME 5/85)
7. Fabulous Moolah and several other wrestlers celebrate Mother's Day (SNME 5/85)
8. Fabulous Moolah on TNT (9/6/85)
9. Fabulous Moolah on TNT (10/11/85)
10. Fabulous Moolah & The Spider on TNT (10/25/85)
11. Wendy Richter v. The Spider (In what seemed like an upset, the Spider pinned Richter to win the title. But Richter
unmasks her to reveal THE FABULOUS MOOLAH! It turns out that Wendy's contract was up, and Vince wanted her
to sign a new contract for less money. Wendy tried to hold out for more money and Vince responded by not sending out
the usual woman that wrestles as the Spider Lady, but by having Moolah put on the Spider Lady's costume unbeknownst
to Richter and pin her for the Title. Moolah did indeed roll Richter up into a small package and Richter
attempted to kick out, but Moolah didn't let her go, and the ref counted to 3. Richter couldn't believe it, and from the
look on her face, really appeared to not have any knowledge of what had happened. She even attempted to continue the
match, but the ref made her stop. Even Howard Finkel sounded confused when he announced Moolah as the new
champ. "The Fink" hadn't been tipped off either! Richter never worked for the WWF again, and to my knowledge
never appeared on WWF/E TV until she was inducted into the WWE Hall of Fame.) MSG 11/24/85
12. Fabulous Moolah takes questions from the TNT studio audience (TNT 12/6/85)
13. Fabulous Moolah v. Velvet McIntyre (Wrestlemania 2)
Disk 3
The later (and MUCH LATER) years.
1. Don Muraco & Mr. Fuji in "Fuji Chan" (Also starring Fred Blassie & Fabulous Moolah) Primetime 4/13/87
2. Fabulous Moolah v. Sherri Martel (Martel defeats Moolah to win the WWF Womens Title. Houston 7/24/87)
3. Fabulous Moolah, Rockin' Robin, Velvet McIntyre, & The Jumping Bomb Angels v. Sherri Martel, Lelani Kai, Judy Martin,
Donna Christanello, & Dawn Marie (After decades as a heel, Moolah wrestles alongaide the babyface team! Survivor Series 1987)
4. Fabulous Moolah is inducted into the WWF Hall of Fame (1995)
5. Jeff Jarrett/Ivory vs. Fabulous Moolah/Mae Young (RAW 10/4/99)
6. Fabulous Moolah v. Ivory (No Mercy 99)
7. Debra/Mae/Moolah/Tori Vs. Ivory/Jacqueline/Luna/Terri (Survivor Series 1999)
8. The Kat and Mae Young v. The Fabulous Moolah and Terri Runnells (SD 4/13/2000)
9. Fabulous Moolah v. Victoria (Moolah celebrates her 80th Birthday with a win over Victoria! RAW 9/15/03)
10. Fabulous Moolah & Mae Young v. Torrie Wilson & Dawn Marie (School Girl Match. Phoenix, AZ 9/23/04)