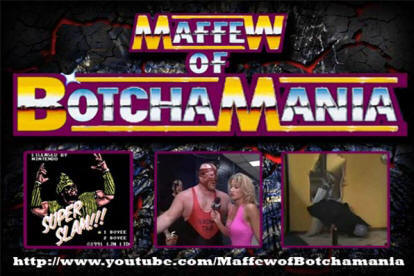 Disk 1 (Botchamanias 1-12)
Botchamania 1,2 & 3
1. Rico yells for Jeff Hardy from the top rope, who misses his cue. "C'MON JEFF GODDAMMIT!" (WWE Survivor Series 2002)
2. Brock Lesnar botches the Shooting Star Press. (WWE Wrestlemania XIX)
3. Marty Garner mistaking the Pedigree for a Double Underhook Suplex
4. Kevin Nash suffers a quadriceps tear. (Raw, 2003)
5. Kane falls off the top rope, attempting a dive to the outside. (WWE Summerslam 2003)
6. Lita bends backwards, attempting a dive to the outside to Trish Stratus (Raw 2003)
7. Brock Lesnar breaks Hardcore Holly's neck with a powerbomb. (SmackDown! 2003)
8. Randy Orton misses Chris Jericho while attempting an RKO. He just does it again. (Raw 2003)
9. Sabu hits a springboard senton on to a table which doesn't break. It was probably made in Japan.
10. Jeff Hardy runs up to a Whisper in the Wind a little too fast, and end up falling from the turnbuckle to the floor outside, landing
on Taka Michinoku.
11. Kevin Nash botches a powerbomb on The Giant. (WCW Souled Out 1998)
12. Ultimo Dragon trips during Wrestlemania XX entrance.
13. Kurt Angle breaks Hardcore Holly's wrist with a moonsault. (SmackDown! 2000)
14. Backyard wrestlers jump off a roof and break a table.
15. Goldberg falls over during his pyro. (WWE Summerslam 2003)
16. Bryan Clark dodges Goldberg's spear during a match between Kronik and Goldberg and Goldberg hits his head on the steel ring post, knocking himself out (Thunder 2000)
17. Hulk Hogan botches taking a Chokeslam from Undertaker. (WWE Judgment Day 2002)
18. Scott Steiner slips attempting a dive on Test from the apron, catching his ankles and tripping him up. (WWE Badd Blood 2003)
19. Brock Lesnar botches an F-5 on A-Train. (SmackDown! 2004)
20. Perry Saturn goes ape on Mike Bell after a botchful series. (Metal 2001)
21. Bret Hart: "at the In Your Haze ... In your House PPV." (WWF King of the Ring 1997)
22. Low Ki catches the ropes attempting a Suicide Dive on to Sabu, twice. (ICW)
23. Sabu sabotches a springboard move.
24. Paul Orndorff is injured in a match, but has to wait three minutes before it is stopped.
25. Taka Michinoku lands on his face upon being eliminated from the Royal Rumble. (WWF Royal Rumble 2000)
26. Matt Hardy sells a dropkick that missed him. (WWF Royal Rumble 2001)
27. Hurricane attempts a springboard dive to the outside, slips, and lands on the apron. (WWE Armageddon 2003)
28. Kurt Angle struggles to enter a steel cage.
29. Sid Vicious screws up a live interview.
Botchamania 4
1. Owen Hart cutting the infamous "that's why I kicked your leg out of your leg" promo
2. Chris Beniot's topé that sent him flying into the announce table back first
3. Hulk Hogan's failed attempt a throwing fire at Ultimate Warrior at Halloween Havoc 1998
4. Some bad selling from Brian Adams at Unforgiven 2001
5. A luchador moonsaulting a cameraman
6. Jack Evans falling several feet onto concrete at Cage of Death VI
7. Vader's match with Stan Hansen that causes his eye to pop out
8. A Japanese wrestler demonstrating why it is a bad idea to set yourself on fire for a spot
9. Ken Patera interviewed by a corpsing Gene Okerlund
10. Mark Henry's attempts to open the cage door
11. Joey Mercury's injury at Armageddon 2006
Botchamania 5
1. Sandman failing a promo for NODQ.com
2. Batista accidentally de-pantsing Scott Steiner during a powerbomb
3. Christian diving into the ring apron despite Steiner only holding his head
4. Triple H injuring his knee during a spinebuster on Randy Orton at New Years' Revolution 2007
5. Mr. McMahon tearing both quadriceps at the Royal Rumble 2005
6. Trish Stratus failing to get weapons in to the ring during a hardcore match
7. Jeff Hardy and Brock Lesnar having a no-sell jawbreaker exchange
8. Cactus Jack and Sandman fighting on a scaffold before falling off
9. Chris Beniot dropping Sabu on his head - the move that earned him the nick name "The Crippler"
10. Randy Orton running in with a chair and then suddenly running out with it
11. James Mitchell scalping Raven by holding the clippers the wrong way
Botchamania 6
1. Scott Steiner "gimme a fucking mic" at Survivor Series 2002
2. Edge's failed Sunset Bomb on John Cena at Unforgiven 2006
3. Rob Van Dam taking out a cameraman at One Night Stand 2006
4. Kurt Angle botching a Vandaminator
5. Hulk Hogan's infamous "if you thought I was the right gay-guy" promo to Mr McMahon
6. Shelton Benjamin running down the ramp only to vault over the steps out of sight
7. Terry Funk failing to be put through a table, puts himself through it
8. Sabu and Sandman in an awful tables and ladder match
9. Mike Tenay and Don West getting caught reading from scripts after some poor production by TNA
Botchamania 7
1. "Get outta the fucking way"
2. The infamous Jake Roberts drunken promo for the Legends of Wrestling PPV
3. Victoria failing to use a fire extinguisher at Survivor Series 2002
4. Sabu having his headdress stolen by a fan and subsquently chasing after him
5. Earl Hebner counting to four before Shawn Michaels and Owen Hart bridge out of the pin
6. The attempted streaker at WrestleMania 23
7. Batista's spinebuster attempt on Vader at Taboo Tuesday 2005
8. British Bulldog arriving at the Royal Rumble claiming he would win because he's "bizarre"
Botchamania 8
1. Donald Trump's failure to sell a Stone Cold Stunner at WrestleMania 23
2. Jim Ross: "Mark Henry is handling the Big Johnson"
3. Nick Gage falling into the ring
4. The infamous "Windjammer" interview
5. A wrestler for no apparent reason attacking a spectator
6. A fan pushing over a ladder during a match between Eddie Gurrerro and Rob Van Dam
7. Snitsky laughing on camera after being driven through staging by Kane
Botchamania 9
1. Triple H and Ric Flair having difficulties during their parody of Braveheart for WrestleMania 21
2. D'Lo Brown overstepping after being pushed of a ladder
3. Kane blatently moving into a lionsault by Chris Jericho
4. Sabu diving chin first onto the guardrail
5. Monty Brown eliminating himself from two battle royals
6. Rey Mysterio slipping on a 619 attempt at WrestleMania 22
7. Vader falling over at Taboo Tuesday 2005
8. Botches from Lockdown 2007
9. Booker T telling Hulk Hogan "we're coming for you nigga"
Botchamania 10
1. Chris Beniot struggling with a promo
2. A fan trying to party with the nWo and getting several punches for his trouble
3. Triple H's troll yell
4. Elizabeth struggling to spray mace in Sting's eyes
5. Botches from a ladder match between Rey Mysterio and Eddie Guerrero
6. Including Vickie Guerrero missing her cue and Eddie getting really frustrated
7. Botches from Scott Hall vs. Roddy Piper
8. Botches from Rob Van Dam vs. Sabu
9. A time-bomb deathmatch where the ring is supposed to explode ends with a poof of smoke.
Botchamania 11
1. Dave Schultz's misadventures in San Francisco
2. Schultz: Last time I was in San Francisco, I went downtown lookin' for a woman. You know what I'm saying?! I wanted a
woman! I couldn't find a woman! (Mean Gene, conducting the interview, corpses) I found a lot of men that LOOKED LIKE
women! (camera zooms in Schultz's face as Gene turns away) Now YOU, Hulk Hogan, you belong in San Francisco—What's
wrong with you, Gene?!—I'm tellin' it like it is, baby! You belong in San Francisco; that's your kind of place, that's your kind of
people, because you've never had a woman, baby!
3. Paul Heyman taking a beer to the face
4. Vince Russo failing to use a guitar on Curt Hennig
5. Sid Vicious cutting the famous "You know and I know that you are only half the man that I am, and I have half the brain that
you do!" promo
6. Sabian struggling to break a table
7. Sandman commenting on a match between himself and Sabu
8. Bloopers from the WrestleMania 21 parodies
9. Another fan attempting to invade a WCW ring
Botchamania 12
1. Bobby Heenan shouting "what the fuck are you doing"
2. Kurt Angle and Brock Lesnar botching a spot with an F5
3. Batista failing to powerbomb Kane
4. Billy Kidman successfully delivering a shooting star press to John Cena's shoulder
5. Two wrestlers attempting a spot which causing a light fitting to come loose
6. This botch is repeated
7. William Regal suffering a concussion at No Way Out 2002
8. Carlito headbutting a camera
9. Yokozuna destroying a jobber with a Bonsai Drop
10. The Shockmaster arrives in Botchamania
11. Dusty Rhodes explaining how the Shockmaster ended up on the floor
Disk 2 (Botchamania 13 – 25)
Botchamania 13
1. An over eager Charlie Haas bouncing off the ropes and throwing Lillian Garcia to mat
2. Mankind failing to throw fire at Paul Bearer, before the Undertaker decides to blatantly light the flash paper in Bearer's face
3. Mike Tyson claiming that Steve Austin is his man
4. Bubba Ray Dudley failing to staple a sign to Abyss's head
5. Abyss kicking a young fan square in the jaw whilst trying to climb over the barrier
6. Jerry Lynn tasting some concrete
7. Steve McMichaels experiencing some back suplex problems
Botchamania 14
1. John Cena failing to put Sabu through a table
2. Golddust eliminating himself
3. Joey Styles on the receiving end of a beer
4. JBL suggesting Booker T should "add one more crown to the jewel"
5. Scott Steiner promos
6. Botches from Heidenreich vs. The Undertaker from Royal Rumble 2004
7. Sabu explaining why a fire death match is a bad idea in an indoor arena
Botchamania 15
1. Michael Buffer: "Here in the twin cities of Minnesota, a special heavyweight eliminator match. The winner of this match will go
on... to face the reigning United States Heavyweight Champion, Bret "Hitman" Clark."
2. The Rock keeps losing his voice during a promo with Mankind. Both corpse.
3. Rey Mysterio falls off his opponent when trying a reversal DDT.
4. Sabu sabotches a springboard kick.
5. Kurt Angle botches rolling through for an Ankle Lock, so just pins Kane instead.
6. Taz trips when running the ropes, hits the second rope and falls backward.
7. Mike Chioda fails to count a pin for ages, and when he does, he counts to three and calls it a near-fall.
8. Kane falls headfirst almost vertically to the floor following a Cactus clothesline from Shane McMahon.
9. Vince McMahon: "Yeah, no shit."
10. Sting injures a referee by throwing Kevin Nash in to him.
11. William Regal attempts powerbomb to Edge from apron, and they both just fall awkwardly to the floor.
12. The Rock's sunglasses fall off in the middle of saying "If you smell, what The Rock... is cookin'!" Mankind is nice enough to
pick them up and hand them back to the People's Champ.
13. Devon Dudley is late breaking up a pin by Kane on Buh Buh Ray Dudley. The ref counts to three and calls it a near-fall.
14. Buh Buh Dudley sells a DDT before receiving it.
15. Sabu hits a springboard moonsault onto a table. The table does not break.
16. Shane McMahon trips himself up attempting a sharpshooter on Kurt Angle.
17. Kurt Angle hits the ref while swinging for Shane McMahon with a kendo stick.
18. Kurt Angle hits a belly to belly on Shane McMahon onto a glass panel which doesn't break and Shane takes an awkward bump
on his neck. After succeeding a second time, the first botch happens another two times.
19. TNA X Division belt continually falls down from it's cables during the first ever 'Ultimate X' match. Despite it being advertised as 'no ladders', a ladder has to be used to re-hang the belt. The announcers oversell their joy at the decisions
Botchamania 16
1. Michael Buffer announcing the number one contender match to face Bret "Hitman" Clark
2. The Rock cutting a promo with a sore throat leading to Mankind breaking character
3. Shane McMahon taking Kane over the rope causing him to land on his head
4. "You hot?" "The lamp was hot" "No shit" exchange between Vince and Stephanie McMahon
5. The magic chair popup
6. The Rock's sunglasses falling off during a promo
7. Kid Kash's self elimination at One Night Stand 2005
8. Botches from Shane McMahon vs. Kurt Angle at King of the Ring 2001
9. Including the spots with the unbreakable glass
10. The first Ultimate X Match featuring the constantly falling down championship and Don West's over excitement at the match continuing.
Botchamania 17
1. Kevin Nash claiming he's the shit
2. Mick Foley explaining how he missed the table by four feet at WrestleMania 2000
3. Selected botches from Kane and The Undertaker vs. Kronik at Unforgiven 2001
4. The Hardcore match from Wresltemania 2000 which saw Hardcore Holly winning the title when he wasn't meant to
5. The XPW Incident:
6. ECW's pay per view was techincally invading XPW's territory so Rob Black the owner purchased front row tickets for some of the stars to make it clear. The group of stars wore t-shirts with the XPW logo on it and were ejected from the building a fight subsquently broke out between the ring crew of XPW and the ECW locker room - stemming from a rumour passed round that Francine had been grabbed by Kristi Mysti. Three years later Rob Black was charged with creating snuff porn... true story.
No listings for vols. 18 – 25
Disk 3 (Botchamania 26-39)
Botchamania 28
1. Jeff Hardy not being able to pull the bag down to win the match, while Jim Ross calls Jeff Hardy Matt Hardy.
2. A fan takes DDP's hat.
3. Mr. Perfect oversells a Benoit chop into the ring steps.
4. JR calls The Undertaker Mankind.
5. Trent Acid hits his face on stairs after a springboard.
6. A WWE cameraman flips off his reflection in the Smackdown set.
7. JR saying "Cena likes that smash mouth in-your-style face".
8. Mike Awesome punches a fan.
9. JR mistakes The Rock's cast for a casket.
10. Steve Austin breaks Masahiro Chono's neck with an inverted piledriver, then 7 years later Owen Hart breaks Stone Cold's neck
with the same piledriver. A screenshot of Kama Mustafa appears with the caption "Karma hurts".
11. Vince McMahon trains for his match against Austin. He has to catch a chicken, but the chicken doesn't move an inch. Vince then
proceeds to 'choke' the chicken.
No listings yet for the other volumes
Disk 4 (Botchamania 40-49)
No listings yet
Disk 5 (Botchamania 50-59)
No listings yet
Disk 6 (Botchamania 60-69)
Botchamania 65
1. While Kevin Kelly interviews The Rock, Pat Patterson is shown emerging from a door labeled as The Rock's dressing room,
looking into the camera, and going back through the door
2. Disco Inferno and another wrestler botch a swinging neckbreaker
3. Brian Adams botches a hurracanrana attempt on Bam Bam Bigelow. Bigelow then stiffly clotheslines him.
4. Brian Kendrick sells Matt Hardy's Twist of Fate too early. Hardy then picks him up, they re-do the spot, and Hardy scores the
winning pinfall.
5. Bobby Lashley attempts to slam the Big Show, but he drops him early. Lashley then throws up his arms as if to acknowledge the
fact that he screwed up.
6. Rick Steiner climbs to the top turnbuckle, slips, and falls to the floor
7. Two TNA wrestlers botch a hurracanarana
8. When Santino Marella hits "Hacksaw" Jim Duggan with a guitar, a piece of the guitar cuts Santino on his lip, causing him to
bleed
9. While walking to the backstage area, Ric Flair runs into one of WCW's hanging cameras. He responds by angrily throwing down
the crumpled-up poster that he was holding.
10. While doing an angle where he humiliates Kevin Nash in the ring, "Macho Man" Randy Savage can be heard yelling at a fan to
"come on in! Come on in, hot-shot!" The fan runs into the ring, Savage tackles him, and they both land on Nash in the process.
Savage starts punching the fan and, when two security guards come over to intervene, Savage mistakes one of them for another
fan and punches him as well.
11. "Victim of the New Set #1: Goldberg." We see Goldberg stumble as he walks down the entranceway.
12. "Diamond" Dallas Page requests a "Three-Way Dan" match
13. "Mean" Gene Okerlund says "as we enter a new millennum"
14. "Macho Man" Randy Savage says, "Let me just lay the smackdown for ya right now!" Maffew supplements this with a picture of
The Rock and Ric Flair saying "Huh?"
15. At the end of an episode of "Nitro," Sting thinks the show has already gone off the air. He grabs a microphone and says, "We got
two words for ya!" The crowd responds by yelling, "Suck it!" Maffew supplements this with a picture of DX and "Huh?" again.
16. "Victim of the New Set #2: Juvi." While standing on the ramp, Juventud Guerrera pours water over himself. He then slips and
falls on his ass, struggling to get up for a few seconds. When he stands up, he can be seen clutching his back. He then looks into
the camera and sticks his tongue out.
17. While David Flair walks around backstage, Sting can be seen standing off to the side
18. William Regal vs. CM Punk
19. Lilian Garcia announces that, if Regal gets himself disqualified, Punk "will be rewarded the Intercontinental Championship."
Jerry "The King" Lawler then questions her for saying "rewarded."
20. During the match, Michael Cole refers to Punk as "Jericho." Lawler then corrects him. A few moments later, Cole makes the
same mistake.
21. Sandman vs. Prince Iaukea
22. Sandman executes a senton splash from the top rope onto Iaukea, who is lying on a table. The table does not break.
23. Sandman Irish whips Iaukea into the table, which is now propped up against the turnbuckles. It still does not break. He then pins
Iaukea instead.
24. Bam Bam Bigelow hip-tosses Sandman through a table, and Tony Schiavone says, "Another chair crumbles."
25. Everyone Talks Too Much
26. The referee tells Mr. Perfect he has "two minutes" left before the match has to finish
27. WCW's "Starrcade 1992." Some notable botches include:
28. A WCW announcer advertises "The 10th Annual Starrcade '92!" Maffew puts up a picture of a despondent Jean-Luc Picard with
the caption "Think about that." This would mean that this is the 10th time WCW has held "Starrcade '92." To drive the point
home, Maffew superimposes the suffix "'92" onto previous logos of Starrcade events.
29. A picture from the event shows Barry Windham and Brian Pillman with their names reversed below each of them. Maffew
supplements this with a picture of Pillman pointing a gun with the caption "Unacceptable."
30. Erik Watts delivers a poor-looking dropkick
31. Mike Tenay says "the individual who gets the pin, who gets the submission win in this mat..."
32. ODB vs. Kongtourage
33. ODB goes to pick up one of the members for a slam, but she frees herself and lands on her feet. ODB then picks her up again
and executes a fallaway slam.
34. A valet attempts to knock two of the Kongtourage members' heads together, but she slips and they briefly fall down
35. Scott Steiner can be heard yelling at Don West, "You better be talking about me all night, motherfucker!" Mike Tenay says he
hopes they have seven-second delay tonight.
36. Kurt Angle vs. Jeff Jarrett
37. Jarrett dives over the top rope but lands short of Angle, punching him in the face in the process
38. Angle gives Jarrett an Angle Slam off the ramp and onto a table, but the table slides out from beneath the two of them
39. Jarrett's guitar breaks as he picks it up, causing him to have to discard it instead of using it for a spot
40. Dok Hendrix refers to Aldo Montoya as "Alco," and Vince McMahon angrily interrupts him to correct him
41. Jeff Jarrett refers to Chris Benoit as "Bunwah"
42. Booker T says, "Every since I came to the WWF..."
43. Mr. Perfect says, "If Goldust wins this match, he'll make history here: first man ever to beat the Undertaker in a casket match."
Maffew then puts up a picture of Yokozuna with the "Huh?" sound effect.
44. CZW's "Cage of Death" event. Some notable botches include:
45. A wrestler attempts to give his opponent a Dominator from the top rope, but it takes a while for the two of them to get on the
same page
46. A wrestler attempts to stand on a folding chair, but it collapses underneath him. He throws it to the side instead.
47. Another chair breaks while a wrestler who is sitting on it gets pummeled by his opponent
48. A wrestler tries to throw his opponent crotch-first into the ringpost, but he accidentally drops him to the ground
49. A wrestler grabs a dildo and acts as if he is going to penetrate his opponent with it, but he throws it into the crowd instead
50. A wrestler appears legitimately hurt after being hit by an oar
51. A wrestler botches a springboard elbow when the second rope slips out from under him. He holds onto the top rope to balance
himself and then successfully performs the spot.
52. A wrestler dives to the outside and his opponent fails to catch him, sending him face-first into the metal barricade
53. There is supposed to be an explosion on top of a cage, but it looks like a very weak fireworks display. Maffew supplements this
with a clip of Marvin the Martian saying, "Where's the kaboom? There was supposed to be an Earth-shattering kaboom!"
54. During a backstage promo with "Mean" Gene Okerlund, Hulk Hogan accidentally knocks the microphone out of Okerlund's
hand, catches it, then takes it himself
Botchamania 69
1. Randy Savage introduction quote
2. "Gotta have beef, gotta have spice."
3. IWA Mid-South Simply The Best V: Corporal Robinson vs. The Wifebeater table match.
4. Jim Duggan RF Video shoot interview, sign keeps falling down
5. WWE Raw, Santino Marella's microphone doesn't work
6. Jim Cornette shoot interview on Starrcade 1986 scaffold match.
7. XPW: GQ Money vs. Hardcore Homo
No listings yet for the other volumes, but they are on the disk.
Disk 7 (Botchamania 70-79)
Botchamania 70
1. Randy Savage introduction Be a Man
2. An incident between The Great Sasuke and Dirtbike Kid where Sasuke shot on Kid for removing his mask before their match.
(\Kid did not remove the underneath layer; a motocross-style mouth and nose guard on his face, leaving only the eyes and hair uncovered.)
Botchamania 72
1. Randy Orton vs. Rob Van Dam on Raw
2. Earl Hebner giving the double fingers to Steve Austin
3. Botches from Destination X 2009
4. Art Donovan commentary from King of the Ring 1994 and asking "How much does this guy weigh?"
Botchamania74
1. A fan seeing a wrestler blade and pointing it out
2. Claudio Castagnoli slipping on ring steps and then giving them an uppercut
3. Chris Hero taking a stiff kick to the side of the head
4. A table spot being botched on Smackdown and then repeated, caught on camera by a fan.
5. Shelton Benjamin mispronouncing 'educated'.
6. Botches from Masato Tanaka vs Doug Furnas from ECW Living Dangerously 1998
7. Mae Young being called 'Mae West' by an interviewer
8. Botches from TNA Lockdown 2009
9. Ric Flair pulling down Nikita Koloff's tights during a vertical suplex and exposing his genitals
10. A fire starting in a Haloween Havoc Thundercage match, and Great Muta putting it out with the green mist.
Botchamania 77
1. Flair has to wait for King to counter the Figure 4
2. AJ Jumps and no one catches him
3. When doing the Peoples Elbow The Rock kicks the Baking sheet
4. King calls JR Coach
5. Jericho messes up the Lionsult
6. Referee falls over taking chair from Flair
7. More CZW (what a surprise)
8. Friday Night Raw?
9. Shane O Mac vs Legacy
10. Vader says You Cocksucker
11. Farooq sells a point
12. Test is the Impact Player with 2 Huhs? from Justin Credible and Lance Storm
Botchamania 79
1. Botches from Sonjay Dutt vs. Jack Evans
2. Botches from Abyss vs. Tomko at Slammiversary 2007
3. The first appearance of the massive pile of boxes covered in large black cloth particularly botch worthy due to some fantastic wide shots of the pile of cardboard
4. The first appearance of the CZW Airhorns
5. Team 3D vs. LAX at Lockdown 2007
6. The match was billed as an electrified cage match, this was achieved by dimming the lights and then flickering them and playing an electric shock noise whenever someone was through into the cage during a spot
7. Of course this didn't happen when the wrestlers were seen clearly on camera touching the cage
8. Several FIRE RUSSO chants
9. Hernandez using gloves to climb the electrified cage
10. Sonjay Dutt vs. Jay Lethal from Hard Justice 2008
11. Both competitors suffer with attire problems as the match is a "Black Tie Brawl and Chain" match
12. Yet more FIRE RUSSO chants
No listings yet for the other volumes, but they are on the disk.
Disk 8 (Botchamania 80-89)
Botchamania 84
1. Scott Steiner telling Jeremy Borash to "SHUT UP!" after correcting him (moderator/modifier)
2. Elizabeth corpsing? SEND FOR THE MAN
3. A fan claiming a sequence of mat wrestling between Kevin Steen and B-Boy was boring and subsequently getting involved in the action
4. A WCW messed up ending and two WWE ones
5. A match where there is seemingly no count out and no disqualification
6. A wrestler winning a match twice
7. Hassan missing his cue on a spot
Botchamania 85
1. A WCW instant replay played backwards
2. A 5-Man Last Man Standing Match where both Diamond Dallas Page and Kevin Nash win via performing their finishing moves
3. A 1-hour time-limit tryout tag team match featuring some choice comments from the crowd
4. And ending with a ten-bell salute in memory of the sport of professional wrestling, and both teams being told to never come back
5. The shocking debut of The Shockmaster from Fred Ottman himself
Botchamania 86
1. Three messed up endings from WWE, one from TNA and one from WCW
2. Kurt Angle vs. The Undertaker where the double pinfall/submission victory was re-recorded after the tapings
3. Randy Savage attempting a pin during the Royal Rumble
4. Savage kicking out at 2 during a fast count finish
5. Samoa Joe winning by pinfall despite Delirious' shoulders being nowhere near the mat
6. A WCW Hogan/Giant vs. Goldberg/Nash tag match where no disqualification is called despite interference by four people, and then ends when Goldberg pins Henning who interfered
7. Steve Austin accidentally saying WWF
Botchamania 87
1. Another nonsensical promo from Hulk Hogan
2. Rhino throwing a chair at a fan
3. Dino Bambino doing more damage to himself than his opponent Colt Cabana
4. Glenn Beck trashing the All American Bash
5. Gene Okerlund explaining the "fuck it" interview
Botchamania 88
1. Botches from Sonjay Dutt & Chris Sabin vs. James Storm & Chris Harris at Against All Odds 2006
2. Kevin Nash vs. Raven in a Battle Royale match that ends with Nash being DQ'd for powerbombing Lodi
3. 2 Cold Scorpio and Sabu breaking a ring
4. Sting's take on The Shockmaster story
Botchamania 89
1. Ken Shamrock stiffing Vader
2. Scott Steiner shooting on Ric Flair and questioning why WCW didn't hire the original Buddy Rogers (as Steiner points out
because he's dead)
3. The CZW Airhorns' return
Disk 9 (Botchamania 90-99)
Botchamania 91
1. More poor quality backdrops for RFVideo interviews
2. Raven and SJK take on the mighty 1PW Table
3. Scott Steiner taking insults to heart and delivering a beating to Buff Bagwell <![if !vml]>
<![endif]>
Botchamania 92
This video was solely dedicated to the Victory Road 2009 PPV
1. The first appearance of the TNA-ZER
2. Christopher Daniels ducking the absent offence from Matt Morgan
3. The finish of the IGWP Tag Team Championship match
4. In which the referee spends three or four minutes attempting to dismantle a table brought in the ring before giving up and counting the pin
5. Samoa Joe attempting to Muscle-Buster a dead-weighted Sting
6. The finish of the TNA Tag Team Championship which features several misguided spots
7. Earl Hebner acting as though he was blinded by beer despite being nowhere near the spot
8. Hebner after being pulled out of the ring manages to climb into the ring and count a three before James Storm can break the pin
up despite them starting from the exact same spot
9. Jenna Morasca's decision to sell everything as though she was dead and deliver the worst offence ever seen
Botchamania 94
Kevin Nash was featured numerous times during an episode of WCW Thunder in which he served as a guest commentator. He broke
kayfabe several times and Mike Tenay was caught off guard at some of Nash's shoot comments (such as "Oh, half the guys didn't
show up so we had to book this earller today. What are you smiling about, Mike?")
No listings yet for the other volumes, but they are on the disk.
Disk 10 (Botchamania 100-110)
Botchamania 110
1. Jerry Lawler saying 'John Cena will face off against John- Sheamus'
2. Botches from a Sandman match in Japan including him calling spots loudly.
3. Botches from Masato Tanaka vs. Bam Bam Bigelow in FMW.
4. Luke Gallow saying his past was 'not my fault'
5. Trish Stratus making mistakes in an interview
6. Stevie Ray saying the match between Harlem Heat and The Nasty Boys from Uncensored 1995 was the worst match of his life.
7. Randy Savage winning by DQ at an Uncensored PPV
8. A confusing ending to a women's match on Nitro
9. Valentine winning by disqualification when the referee called for the bell even though Putsky hadn't tapped out during a figure-
four leg lock.
No listings yet for the other volumes, but they are on the disk.
Disk 11 (Botchamania 111 – 120)
No listings yet.
Disk 12 (Botchamania 121 – 134)
No listings yet.
Disk 13 (Botchamania 135 – 150)
Botchamania 140
1. An emotional interview with Jumping Jeff Farmer
2. Botches from Sacrifice 2010
3. An accidental cut to the production truck during an ECW event
4. Raven, Sandman and Tommy Dreamer struggling with weapons
5. Iceman selling the cartwheel on Low Ki's cartwheel kick
6. AJ Styles claiming its a good thing Hulk Hogan isn't in TNA
7. John Zandig attempting to eject a cameraman from a CZW event
8. Big Show winning a "body-slam" match twice; once by body slam, and then by submission
Botchamania 141
1. Botches from Fatal 4-Way 2010
2. Matt Striker describing Yokozuna as Samoan
3. Michael Cole, Jerry Lawler and Matt Striker giving each other hell on the announce table
4. Everyone Talks Too Much segment from The Miz vs. R-Truth
5. Fans unanimously chanting for the recently fired Daniel Bryan at the close of the PPV
6. A theory that John Cena is secretly Shane Douglas
7. CZW's Pain in the Rain
8. Several mistakes on WWE.com
9. Scott Hall claiming he was unemployed when he was arrested for drunk driving, despite being under contract with TNA
10. Stan Hansen going berserk in Japan
Botchamania 142
1. Botches from No Mercy 2005
2. Gene Kiniski explaining how he lost the NWA Heavyweight Championship by forgetting it was a one-fall match
3. Vito getting barraged with chairs
4. A variety of botches from WCW
Botchamania 143
1. Botches from Slammiversary VIII
2. Including Sting's blatent use of Michael Caine's line from the Dark Knight
3. Botches from Eddie Guerrero and Tajiri vs. Charlie Haas and Shelton Benjamin at Judgement Day 2003
4. Botches from Goldberg vs. Chris Jericho at Bad Blood 2003
5. Hernandez's failed attempts at powerbombing Matt Morgan at Victory Road 2010
6. More interference by The Stig
7. An interview with Paul London and Brian Kendrick
8. Discussing how Deuce is the worst wrestler ever
9. And how the Undertaker on fire was hilarious
10. Kevin Sullivan asleep during an interview
Botchamania 144
1. Botches from Mark Henry vs. The Undertaker from Unforgiven 2007
2. An announcer introducing Raven as Sabu and subsequently getting bottled
3. Iceman falling head first into the side of a table
4. Botches from CZW's Best of the Best 8
5. Perry Saturn giving his take on the incident with Mike Bell (see Botchamania 1)
6. The breaking of the Japanese Table
Botchamania 145
1. Botches from Mark Henry vs. The Undertaker from Unforgiven 2007
2. An announcer introducing Raven as Sabu and subsequently getting bottled
3. Iceman falling head first into the side of a table
4. Botches from CZW's Best of the Best 8
5. Perry Saturn giving his take on the incident with Mike Bell (see Botchamania 1)
6. The breaking of the Japanese Table
Botchamania 146
1. Three matches from WCW Uncensored 2000:
2. A bullrope match between Dustin Rhodes and Terry Funk which includes a raw chicken, a guy in a chicken costume and Terry Funk's attempt to use creative control mid match
3. XS vs. Norman Smiley and The Demon
4. Three Count vs. Brian Knobs in a Hardcore Title where apparently rope breaks count
5. Kevin Nash and Scott Hall's experiences of WCW's Spring Break show
Botchamania 147
1. Batista over-selling a headbutt from Mark Henry
2. Randy Orton and John Cena dealing with some fan interference
3. Rick Rude inventing the top rope ass drop
4. Numerous botches from the hard hitting, elbow drop missing and neck breaking Puro wrestling
5. Monday Night Nitro being indecisive about its advert breaks
6. Botches from Summerslam 2010 including:
7. John Cena managing to recover from a DDT on the concrte
8. Alica Fox forgetting the difference between a shoulder and a knee
9. Sabu failing to put someone through a table, twice
10. An Art Donovan sign at a TNA event
11. The return of the mighty Japanese Table
No listings yet for the other volumes, but they are on the disk.
Disk 14 (Botchamania 151-159)
No listings yet.
Disk 15 (Botchamania 160-169)
No listings yet.
Disk 16 (Botchamania 170-179)
Botchamania 172
1. Botches from Sacrifice 2011
2. Taz's commentary duing Brian Kendrick vs. Robbie E
3. "Molested with his kick right to the face"
4. Crowd chant during Beer Money, Inc. vs. Chris Harris and Matt Hardy
5. "Knock, Knock.....Whose There.....Branden Walker"
6. Fans chair breaks at DDT4
7. Botches from Kiwi Pro Wrestling
8. "Tsunamis ain't got shit" sign
9. Shocking Debuts: Saba Simba
10. Botches from IWA Mid-South King Of The Death Matches 2006
11. Botches from CZW International Incident
12. Insane Dusty Commentary: John Nord recalls the "Muffler" story with Dusty Rhodes impersonation.
No listings yet for the other volumes, but they are on the disk.
Disk 17 (Botchamania 180-189)
No listings yet.
Disk 18 (Botchamania 190-199)
No listings yet.

Disk 19 (Botchamania 200-210)
Botchamania 207
1. Introduction by Gregory Iron
2. Botches from Sacrifice 2012
3. Top three botchec endings during Sacrifice
4. Number Three: Ending of Jeff Hardy vs. Mr. Anderson
5. Number Two: Ending of Austin Aries vs. Bully Ray
6. Number One: Ending of Bobby Roode vs. Rob Van Dam
7. Jeremy Borash announcements
8. "The following contest is schedules for one fall" (It was a ladder match)
9. "Rob Van Tam"
10. Insipid Taz Commentary
11. Theodore Long announced wrong title history for John Cena
12. CM Punk gets the alphabet backwards wrong.
13. Brock Lesnar gives John Cena "feelings"
14. Botches from In Your House 5: Seasons Beatings
15. Botches from September Slam 2001
16. Botches from Clash of the Champions IX: New York Knockout
No listings yet for the other volumes, but they are on the disk.
Disk 20 (Botchamania 211-215)
No listings yet.
Disk 21 (Botchamania 216-220)
No listings yet.
Disk 22 (Botchamania 222-228)
No listings yet.